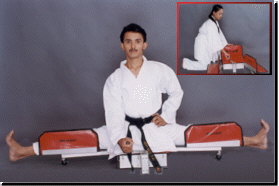 STRETCH MASTER - The ultimate stretching machine SK010
Simple to operate and highly effective - the new Sekaido "STRETCH MASTER" will aid you in reaching maximum flexiblity using it for as little as ten minutes a day. The SEKAIDO Stretch Master has a special brake clutch crank which automatically holds any desired position and releases by turning the handle. The handle doesn't spin freely, making it safer and easier to use. Comes with high quality upholestry for added comfort.
SEKAIDO "STRETCH MASTER" is:
Maintenance free - Safe & easy to use - Compact - Light weight -Easy to store - Attractive.
LEATHER SKIPPING ROPE - SK012 High quality leather skipping rope with polished wooden handle. Swivel atttachment in handles for easy movement.

WRIST / ANKLE WEIGHTS SK011
Foam covering with welcro straps filled with pellet shots.
Comes in 1/2 Kg. &
1 Kg. Sold in pairs.

RATTAN RING - SK013
Made of high quality rattan with burned pattern design on the outside. Used for traditional Wing Chun and Eskrima training. 12" inner diameter; 3/4" thick.
MAKIWARA BOARD SK015
Special hardboard and shock absorbing rubber covered with heavy cotton duck canvas with dragon design printed on it. Four corner hole for mounting. Size: 5" x 12" x 2" thick.

SLOTTED MAKIWARA SK014 Extra firm Makiwara. Made from selected wood. Slotted to produce a wooden spring effect. Special shock absorbing material covered with heavy duck canvas and vinyl. Essential for toughening the hand and feet. Highly reccomended for daily practice by many experts. Size: 5" x 12" x 3" thick.

MAKIWARA PAD SK016
The smallest of the punching pads. Made of outer canvas cover filled with hard shock absorbing material. Four loops and a cord is provided for easy tying. Portable enough to carry in your bag while travelling. Can be used indoors our outdoors. Ninja face is screen printed on the front. Size 5" x 8" x 1" thick.
KICKING/PUNCHING BAG - SK017
Made of extra tough canvas with double stitching on strap and seams, comes complete with nylon hanging strap and metal rings. Each heavy bag is zippered at the top. Comes in two sizes - (a) 12" x 36" (b) 12" x 72". Comes unfiled and without attachments.

DOUBLE END STRIKING BALL SK018
Improve timing, focus and accuracy of your kicks and strikes. Made of leather and comes with two springs.
GENUINE LEATHER SPEEDBAG - SK021
SEKAIDO Genuine Leather Speedbag offers the perfect shape and balance to give you a better workout. Comes witha free ballbearing chrome plated swivel to assure smooth, fast and accurate rebound. A locking device securely holds the striking bag in place.

THAI PAD - SK027
Made of top quality leather with two hook-and-loop straps and a heavy ahndle for a firm and secure grip. Filled with shock-absorbing material. Traditional design. Size 16" x 8" x 3" thick.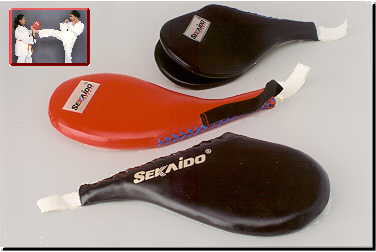 SINGLE KICKING TARGET - SK023
Featured in the photo on the left at the bottom, this target is made of vinyl with shock-absorbing material inside. An elastic wrist strap is attached to reinforce the holder's grip.

DOUBLE KICKING TARGET - SK024
Our double kicking target (featured on the photo here, top) is designed to create a loud "clap" sound allowing you to hear the result of your penetrating punches and kicks. An elastic wriost strap is attached to reinforce the holder's grip.

LEATHER KICKING TARGET - SK025
As featured in the middle of the above photograph, this leather kicking target is designed to give you a greater striking zone while keeping the holder's hand out of the action. Filled with high density shock absorbing foam. An elastic wrist strap and an additional nylon strap helps in reinforcing the holder's grip