KARATE UNIFORMS . . . . . . . . . . . . . .. . . . . .SK001

The best value karate uniform from SEKAIDO. The uniform is cut genorously in a traditional style to give a greater range of movement, while punching or kicking. Extra long ties on the inside to secure the jacket. Traditional drawstring with gausset crotch for high kicks and deep stretches. This uniform in your choice of white or black comes complete with a traditional jacket, pant and a white belt.

| | |
| --- | --- |
| POLYCOTTON KARATE UNIFORM | SK002 |

The finest uniform from SEKAIDO. Our wash and wear uniform is made of polycotton blend which reduces wrinkling after washing. Needs litle or no ironing. This uniform is prefered by many martial artists of all ranks. This polycotton uniform is an affordable alternative without sacrificing quality tailoring, durablity, style and comfort. Comes complete with traditional drawstring pants, jacket and a white belt.

JUDO UNIFORM . . . . . . . . . . . . . .. . . . . . . . . . . . . . . . . . . . . . SK003

Our judo uniform is ideal for practice, training and tournaments. The lower part of the jacket has a woven diamond pattern. It is loose fitting and comes well below the hips. The lapel of the collar are wide and padded to ensire a good hold. The trousers are traditional cut with drawstring waist.

The judo uniform is unbleached and made of 100% cotton with quality stitching.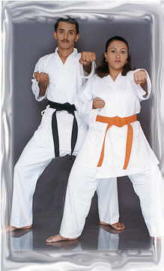 HEAVYWEIGHT POLYCOTTON UNIFORM . . . . . . . .. . . . . . . . .SK004


The heaviest of the karate uniforms.
This polycotton uniform is made of thick pure white polycotton material with quality stictching. Good for instructors and senior students. The heavyweight polycotton uniform is a good substitute for a canvas gi. It is tough but soft in feel. Comes complete with jacket, elastic or traditional drawstring pant and a white belt.
COLOUR RANK BELTS &&&&&SK005

Wrap the symbol of your achievement around your waist with SEKAIDO colour belts. Superior quality cotton material with uniform stitching makes this belt and ideal choice. Colours available : White, Yellow, Orange, Green, Purple, Blue, Red and Brown. Width : 1.5" & 2" thick. Sizes: S, M, L, XL.


KICK BOXING UNIFORM SK006
Made of polycotton material. V-neck with kickboxing figure strip running around the neck and on both sides of the shoulder till the end of the sleeves. Comes with elastic drawstring and available in Royal Blue, Red, Black and White colors. Sizes: S, M, L, XL

BLACK BELT................. SK007

Reward yourself with the best black belt in the market. Because, after putting in the long hard years of training to reach the black belt, you deserve the best !


TRAINING PANTS ...........................................SK008


SEKAIDO Training pants are the most popular. Made of polycotton fabric and a two inch elastic waistband with an outside drawstring. The training pants has a deep crotch gusset which allows adequate room for stretching and kicking techniques. One inch wide colourfull kickboxing or eskrima satin strip running on the full length of the pant makes it more attractive. Comes in Black, Red & White colours.